Leftover Chicken Tortilla Soup Casserole
Debber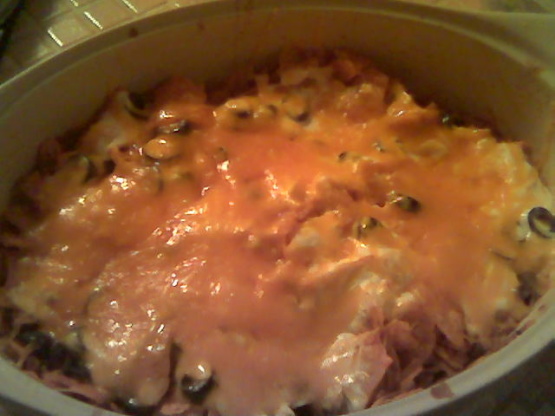 With all the tortilla soup recipes here on 'Zaar, there must be SOME leftovers. So here's what you do with the leftover soup. No more LEFTOVERS--they're "planned overs." Use the soup as the base for this tasty Mexican casserole.

Very good. I used blue tortilla chips and a avocado slices instead of black olives. Loved it.
Preheat oven to 350.
Pour leftover soup into a large casserole pan.
Dump tortilla chips into the soup, mix well.
Add salsa to soup & chips if the soup isn't very soupy; mix well.
Slather sour cream over the top.
Sprinkle on the olives.
Sprinkle the cheese over the olives.
Bake for 30-35 minutes, until cheese is bubbly and casserole is heated through.
OTHER OPTIONS: add some chopped green chilis, cumin, red peppers.
NOTE: My chicken tortilla soup has corn kernels in it -- if your recipe doesn't, try adding some; it really makes a difference.