Bergy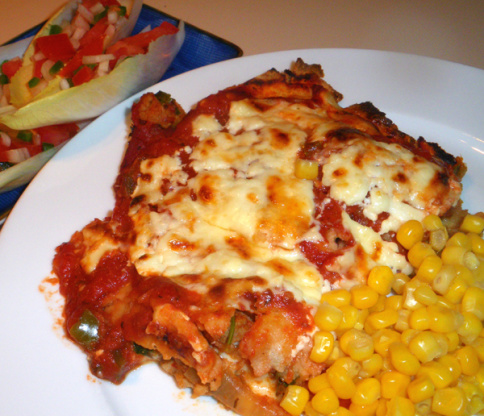 Great way to use left over roast. I usually put in a couple of Chopped Jalapeno peppers but it depends if you like it hot or not

Wonderful, quick and different! We had a large leftover BBQ'd steak which I cubed. Followed your directions except for the addition of cumin to the onion/pepper medley. Purchased an excellent green salsa and added to the mixture. Poured a red salsa over the assembled batch and topped with fat free sour cream. Very filling indeed!
Saute the onion & garlic until the garlic is fragrent & the onion is soft.
Add the sweet peppers for a minute.
Remove from heat add beef and 1/2 cup taco sauce.
Spoon about 3/4 cup of the meat mixture down the middle of each tortilla.
Sprinkle with 1 tbsp of cheese.
Fold the tortilla sides up so they overlap slightly.
Place them side by side, seam side down, in a 11x7 baking dish.
Spoon the remaining Taco sauce over them.
Spoon the sour cream in a line down the middle.
Sprinkle with the remaining cheese.
Bake in 350F degrees oven for about 30 minutes.