Left-Over Chicken Carcass Soup
gailanng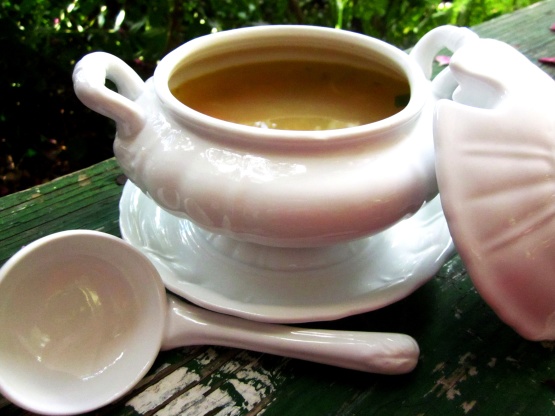 There is always some meat left on it.. this soup is wonderful.

Yum! The recipe extracted a great deal of flavour from the chicken carcass and it had a wonderful aroma during cooking. The chicken broth I was using was quite salty so I cut back on the amount of salt and the only other change I made just to suit what I had on hand was use rice noodles instead of egg noodles. I put those in the pot and cooked along with the soup for the final 15 minutes. It made a great tasting and substantial soup which we really enjoyed along with some crusty buttered rolls.
1. Place broth, salt, pepper, onion 2 carrots, 1 stalk celery, dill and carcass into a pot, and add just enough water to cover the ingredients.
2. Bring to a boil then simmer at least 2 hours.
3. Using a cheese cloth strainer. pour soup over and into another pot.
4. Remove chicken from the bones and gather any loose chicken, then place into the strained pot of soup. Discard the rest of the bones and cooked veggies.
5. Add the remaining 4 carrots and stalk of celery to the soup.
6. Bring to a boil then simmer at least one hour. Salt and Pepper to taste.
7. Put cooked noodles into the pot and serve!