Lee's Whole Wheat and Nut Pancakes
Bayhill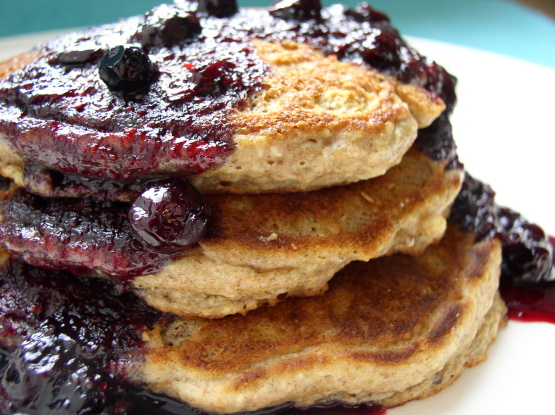 My daughter hates pancakes but she LOVES these ones. Whole wheat, oats, almonds, pecans, sunflower seeds and wheat germ.

Nutty goodness in every bite, these are sure to please! Great with syrup or fruit over the top. Kids request these often on the weekends.
Mix oats, whole wheat flour, flour baking soda baking powder, salt sugar, almonds, pecans, sunflower seeds, wheat germ together in food processor pluse until nuts and seeds are finely ground. Transfer to bowl.
In small bowl combine buttermilk egg and oil whisk together.
Mix butter milk mixture with dry ingredients stir well.
Lightly oil griddle. With a 1/3 cup measuring cup pour batter onto hot griddle. Cook til lightly browned and flip.
Serve with maple syrup or topped with fresh fruit.