Lee's Potato and Onion Skillet
Lainey39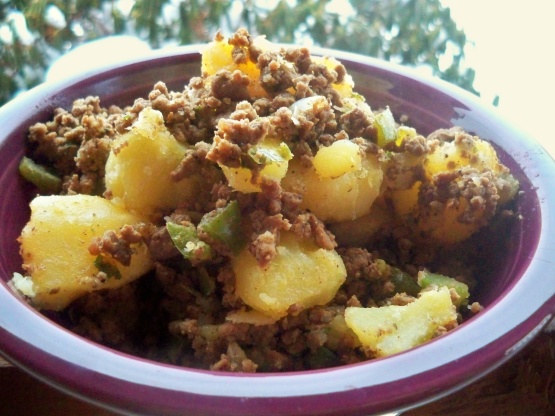 This is one of my husband's most favorite and commonly made recipes. It's often requested and so simple to make. Sometimes he'll make it with hamburger for a more complete meal.

This turned out to be a good tasty supper dish,that was prepared without any real effort. Like Lainey,I decided to add some meat to it,to make it a complete meal,but used turkey mince rather than beef,to keep the fat down. I also threw in a handful of quartered mushrooms,and a good amount of garlic powder and chilli flakes,and seasoned it very well too. This was a good midweek meal,and went well with a fried egg (runny yolk of course!!) thrown on the top.The egg yolk running down into the potatoes was just great. The only downside of this,was that I would have prefered the potatoes to have crisped up a little around the edges,so next time I may well fry them off a little first before introducing the other components. Thanks for posting.Made for PRMR.
Boil potatoes until almost fork tender.
Spray a large frying pan with cooking spray.
If using hamburger, brown completely.
Fry onions and green peppers for 1 minute on med heat.
Add potatoes and spices, mix well.
Fry 5-7 minutes until cooked through.
Fry longer for a crisper texture.