Lee's Family Diner Becky Burger - Copycat
lets.eat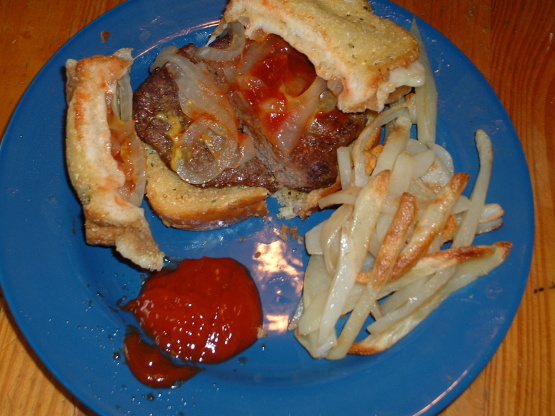 I have no idea where Lee's Family Diner is and who the heck is Becky!. I found this on the www.copykat.com site. My youngest DS requested burgers and 'fries for his birthday lunch and so I made this. We all liked it VERY much, pretty greasy though, so have plenty of napkins available. For the texas toast, use whatever flavor your family likes, I used parmesan. This was delicious, one that I will be making again-hope you think so too.
4

(4 ounce) ea. frozen ground beef burgers (or fresh)

8

slices Texas toast thick bread

8

slices swiss cheese

1

sweet onion, sliced into rings
salt and pepper

12

teaspoons teriyaki sauce
In skillet melt butter, add onion and cook until browned (or cook it in peanut oil, you'll love the aroma) add salt and pepper to personal taste. Remove and place onions in aluminum foil to keep warm; set aside.
Bake Texas Toast according to package directions. While toast is baking, preheat outdoor grill. Turn off oven, add swiss cheese atop toasts, and keep in the oven to remain warm.
Cook burgers to desired doneness ON 1 SIDE, flip burgers and with a fork prick burgers. To each burger baste with 3 teaspoons teriyaki sauce. Cook until desired doneness.
Place burgers atop Texas Toast, top with onions and place remaining slice of toast.