Parsley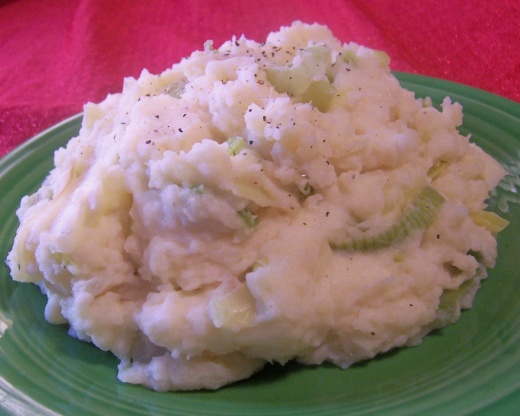 I love these mashed potatoes! Leeks and potatoes ... yum!

Top Review by Dawnab
This was excellent! I subbed Walla-walla sweet onions for the leeks (same flavor), as the farmers market closed early this season and used rosemary in place of the parsley to tie in with the lamb I cooked this with, I also cut the recipe in half with no problems and used my imersion blender to make a cozy dinner for 2 and enough leftovers for lunch. I will make this again with leeks, but I think the cream cheese is an over the top ingredient I will use often. Thanks Parsley!
Put diced potatoes in a large saucepan and cover with water. Bring to a boil and cover and simmer 12 minutes or until tender. Drain; return cooked potatoes to pot.
While potatoes are cooking: In a skillet over med-high heat, melt 2 tbsp butter and add chopped leeks. Sautée the leeks, stirring often, for about 5 minutes, or until leeks are soft (slightly brown is OK).
Add the cooked chopped leeks to the pot of drained, cooked potatoes. Add the milk, cubed cream cheese, 3 tbsp butter, salt, pepper, paprika, and parsley.
Mash everything together w/ potato masher to desired consistency. (I like this a little on the chunkier side).