Leeky Linguine With Shrimp
popkutt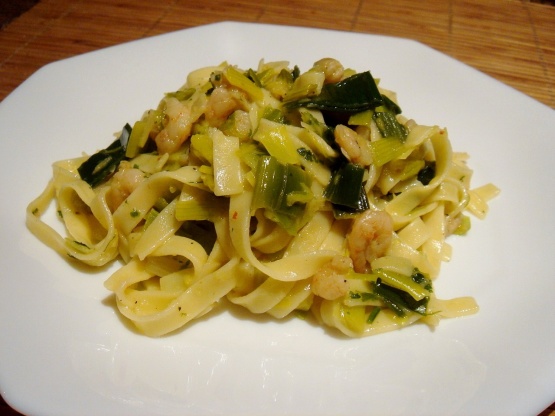 from Everyday with Rachel Ray. This is a nice, lightly flavored pasta dish. In my opinion, a pound of dry pasta is more than enough for four people - I use less.

I made these with thawed cooked mussel meat, as there are very few recipes for these. This turned out to be very good. I would make it again, but next time I would use half the linguine. I had to make another batch of sauce to give the linguine sufficient flavor. I would also add a cup of veggie or chicken broth to increase the amount of sauce and the flavor. Otherwise very good.
In a bowl, add shrimp, 2 TBS olive oil, lemon peel, garlic, and crushed red pepper, salt and pepper.
Bring a large pot of water to a boil, and cook pasta according to package directions.
Meanwhile, in a large skillet heat 2 TBS olive oil over medium high heat. Add the leeks and season with salt and pepper. Cook about 5 minutes.
Push the leeks to the side of the pan and add the shrimp. Cook until shrimp are pink and firm, about 5 minutes.
Pour in wine and stir, scraping up any browned bits on the bottom of the pan.
Add the drained pasta and parsley to the skillet and toss all together.