Leeks with mustards and cheese
Parsley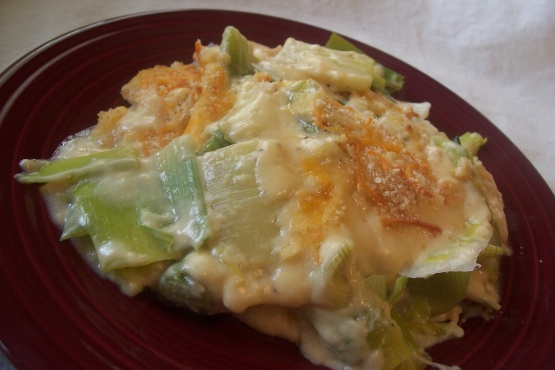 Leeks with cheese is a traditional dish in the Netherlands, the two mustards add a nice tang to this dish. If you are not a big mustard fan, start with using 1/2 tablespoons of the mustard.

I think Bergy said it all for me in her review. These were great leeks. I didn't use the cheddar cheese (when I discovered I didn't have any!) but I used a very sharp and quite fresh textured buffalo cheese. It's supposed to be a good melting cheese, and worked really well in this dish.
Preheat oven to 400 degrees F.
Place the leeks in a pan of cold salted water, bring to the boil and simmer for 3 minutes until just tender.
Drain and put under cold water immediately to refresh and stop the cooking process.
Place the butter, flour and milk in a saucepan and slowly bring up to the boil whisking all the time.
Once it is up to the boil, reduce the heat and let it just simmer for 2 minutes.
Add the grated cheddar and parmesan, then the mustards.
Season with salt and pepper and the nutmeg.
Put the leeks into a shallow serving dish and pour over the sauce.
Mix the breadcrumbs and the cheese together and sprinkle over the top of the leeks.
Bake in the oven for 20 minutes until the top is golden brown.