flower7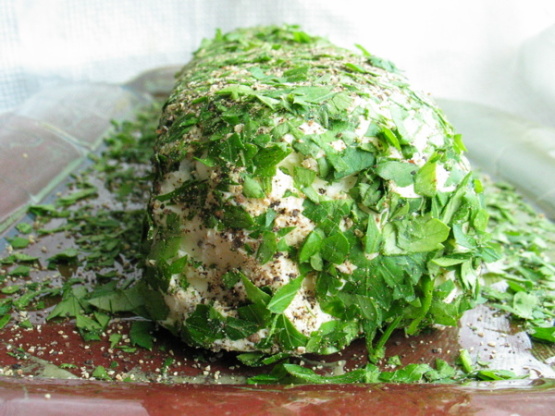 From The Soup Mix Gourmet, by Diane Phillips. This savory cream cheese spread will remind you of Boursin and is great to spread on crackers, toasted bagels, or French bread slices. Also good in mashed potatoes or as a topping for a baked potato. I didn't have fines herbes so instead used 1/4 tsp each parsley, tarragon, basil & oregano. Cook time is chilling time.

Made this today for our appy before dinner. It makes quite a bit so I took one log over to the neighbors and kept one for us. (Before I rolled them I took a sample...love it!) I can just imagine what it will be like after sitting in the fridge for a while. Thank you for posting and I will be making this for Christmas and New Year's. Made for Fall Pick a Chef tag game. P.S. I used your measurements for the fine herbs which worked out perfectly!
In a large mixing bowl, using an electric mixer, cream together the cheese and butter until smooth.
Add the soup mix, fines herbes, lemon juice, and chives or green onion, mixing until well blended.
On a sheet of wax paper, shape the cream cheese mixture into a log or ball, then roll up and chill in the fridge for about 1 hour or until firm.
Meanwhile, on another sheet of wax paper, combine then spread out the parsley and black pepper.
When the cheese has firmed up, roll it in the parsley mixture until fully coated.
Cover the cheese log or ball tightly in plastic wrap and refrigerate for at least another hour and for up to 1 week, or freeze for up to 2 months, defrosting before serving.