Leek, Bacon, and Pea Risotto
popkutt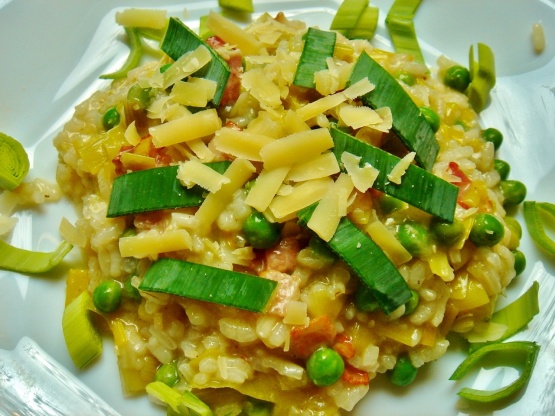 I learned how to make risotto at a cooking class in Italy, the day before my wedding. Risotto takes practice and patience, but even if the consistency isn't perfect, this recipe is delicious regardless.
This was really good! I am not sure what the consistency us supposed to be, but I like it once it gets creamy (and tries to stick), but the rice is still what we call al dente, not crunchy, lol. I was tempted to not season with salt at the end, sodium intake and all, but a pinch at the end really brings foward the flavor of the Parmesan. Made for PAC Spring 2013.
In a saucepan, bring broth to a simmer over medium.
Halve leeks lengthwise; rinse thoroughly. Pat dry; thinly slice.
Meanwhile, in a large, straight-sided skillet or Dutch oven, cook bacon over medium, stirring, until lightly browned but not crisp, 5 minutes. Add leeks; cook, stirring, until softened, 2 minutes. Increase heat to medium-high. Add rice and cook, stirring, until translucent around edges, 1 minute.
Add wine and stir until evaporated, about 2 minutes. Add 1 cup broth. Reduce heat to medium-low and cook, stirring, until broth is absorbed, about 2 minutes.
Repeat process, gradually adding broth, until rice is al dente and risotto is creamy (you may not need all the broth), about 35 minutes.
Stir in peas (if using) after the final addition of broth.
Remove skillet from heat and stir in Parmesan.
Cover and let stand 2 minutes.
Season risotto with lemon juice, salt, and pepper.