PaulaG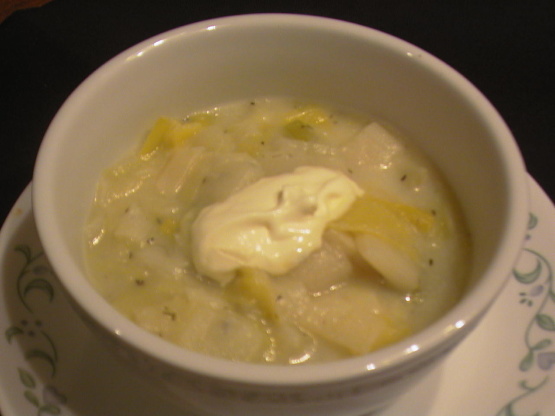 I adapted this from The Soup Bible cookbook. Below I show the original ingredients but when I make it I cut the amount of butter to about 2-3 Tbs and substitute light cream for heavy cream. If you don't have fresh thyme, simply add 1/4 tsp dried thyme to the soup.

My DH enjoyed this soup with crusty buns for lunch, I added in some garlic and dried chili flakes for heat. Thanks echo!...Kitten:)
Melt butter in large saucepan.
Add leeks and sprig of thyme, cover and cook 4-5 min until soft.
Add potato and just enough cold water to cover vegetables.
Cover and cook on low 30 minutes.
Stir in milk and season with salt and pepper.
Cover and simmer 30 min more; some of potato breaks up, leaving you with a thick semi-pureed effect.
Remove sprig of thyme: the leaves will have fallen into the soup.
Dish up 4 servings into soup bowls; just before serving stir 1 Tbs cream into each bowl.