Parsley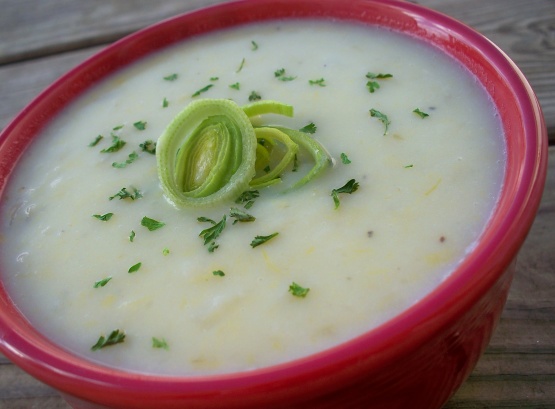 A true family favourite, it's comfort food at its finest.

I modified this soup and the result was terrific. 3 leeks, 4 tbl butter, 1 1/2 onion, 3 C chicken broth, 1 C chardonnay wine, 1 lb potato, 1 C skim milk, 1 - 1 1/2 tsp tarragon -- prepare per directions. I used my immersion blender in the pan and then added the parsley near the end. My guests loved the soup and I will definitely make this again - in these proportions. Really excellent -- good enough for a fancy dinner party!
Wash leeks very well and cut off the green leaves,leaving only a few inches of green tender leaves.
Chop the leaves and reserve.
Cut the white part of the leeks into 1/4-inch slices.
Melt butter in a large pan, add the leeks and onions and cook for about five minutes. Add the leek leaves and cook for an additional three minutes.
Add the chicken broth, potato cubes and wine and bring to a boil.
Cover and simmer on low heat for about one hour.
Put soup in a blender, a few cups at a time, and puree.
Once each batch has been pureed, pour it from the blender back into the pan.
Simmer over moderate heat and then add the salt and pepper and Half and Half.
Sprinkle with parsley and chives and serve.