Nif_H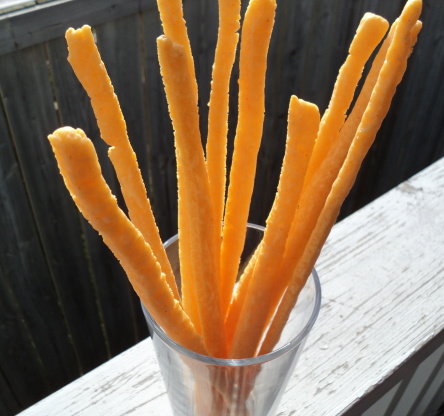 Adapted from Lee Bros. Southern Cookbook.

Wow! I made these for my daughter's grade 1 class party. They were devoured in 15 minutes. These were extremely easy to make and took no time at all. They were light, flaky and oh so cheesy! Can't say they're exactly health food, but these will definitely be making another appearance at our next party. Thanks for the recipe sofie-a-toast.
Preheat oven to 350°F.
In a food processor, combine the cheese, butter, flour, salt and red pepper in five 5-second pulses until the mixture resembles coarse crumbs. Add the half-and-half and process until the dough forms a ball, about 10 seconds.
On a lightly floured surface, using a lightly floured rolling pin, roll the dough into an 8- by 10-inch rectangle that is 1/8-inch thick. With a sharp knife (or a pizza or pastry wheel; both worked great), cut the dough into thin 8-inch strips, each 1/4- to 1/3-inch wide (dipping the knife in flour after every few inches ensures a clean cut). Gently transfer the strips to an ungreased cookie sheet (though I lined mine with parchment), leaving at least 1/4-inch between them. The dough may sag or may break occasionally in the transfer, but don't be concerned — just do your best. The straws can be any length, from 2 to 10 inches.
Bake the straws on the middle rack for 12 to 15 minutes, or until the ends are barely browned. Remove from the oven and set the cookie sheet on a rack to cool.
Serve at room temperature. Cheese straws will keep in the refrigerator, in a sealed container, for two days. They will not last an hour at a party.