Juenessa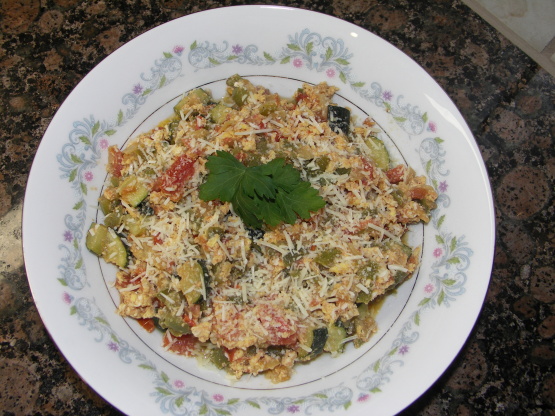 This is a traditional Hungarian dish. My mother used to make it for supper when we were kids, although my kids like to have it for breakfast as well.

Mmmm. This is traditional dish in Slovakia too. Mushrooms and zucchini are optional, but good. We like it just with bread. Many people prepare the onion-pepper-tomato mixture in larger amounts in summer and can it for later use. Good ripe tomatoes with strong taste are the key. For me, it`s a comfort food.
In a large skillet, melt the margarine.
Sauté the onions, green peppers, zucchini and mushrooms until tender.
Add the cubed tomatoes and cook for 5 minutes more.
Lower the heat and continue cooking until most of the liquid is reduced.
In a medium bowl, beat the eggs with the salt and pepper and add to the vegetables.
Stir until done.
Serve over rice or in a pita.