Leche Merengada - Frozen Spanish Meringue Drink
UmmBinat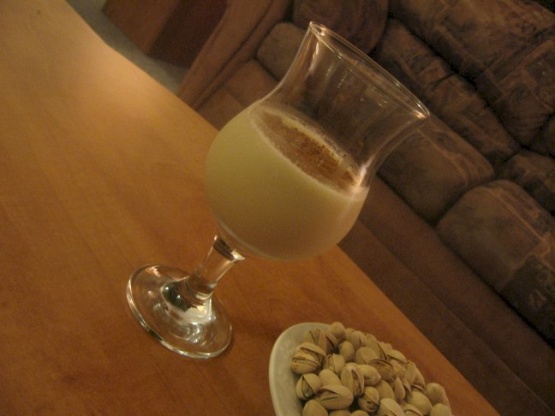 Leche Merengada is a frozen cinnamon and lemon flavored meringue beverage. From notesfromspain.com Posted for ZWT 5. ------------------------------------------------------------------------------------------------------------- Note that if you have an ice cream machine you can also use this recipie to make Leche Merengada ice cream.

Smooth ice cold and good. I used mainly plain rice milk with 1 1/2 tbs full fat coconut milk per glass amount to replace the whole milk as we are dairy free. I guessed the measurements for the sugars using some tapioca starch and raw brown sugar to replace the icing sugar as we are corn free. I used raw brown sugar crystals in both cases. Even used egg replacer as we are egg free too. Go easy on the cinnamon garnish as I found even though I love cinnamon putting a bunch of shakes made it too powdery, do stir it in before drinking. I found it was too much work for the result but I may make this again. Thanks for posting. Photo Posted, I realize I didnt use the right type glass as I dont have cocktail glasses. Made for ZWT5, A Storybook Meal Challenge for Team: Cooks With Dirty Faces.
Pour the milk into a saucepan together with the cinnamon stick, lemon peel and normal sugar. Turn the hob on and let it simmer for 5 minutes while you stir it with a wooden spoon to dissolve the sugar. Then pour it in a bowl and let it cool down.
When the milk is at room temperature remove the lemon peel and the cinnamon stick and place the bowl in the freezer until the mixture is very cold but not frozen.
Now place the egg whites in a bowl with a few drops of lemon juice and a very small pinch of salt (both of the last ingredients help the egg whites to rise), then mix them until they are snowy (punto de nieve). Then add the icing sugar little by little while continuing to mix.
Take out the mixture from the freezer and add the meringue little by little, gently folding it into the milk to get the appropriate consistency. Now keep it in the fridge, and put it in the freezer 15 to 20 minutes before serving to improve the consistency even further. If you keep it in the freezer until it freezes, then you will need to put it through the blender before serving.
Serve it in tall cocktail glasses with plenty of cinnamon powder sprinkled on top.