Lebanese Style Vegetable Ragout
Annacia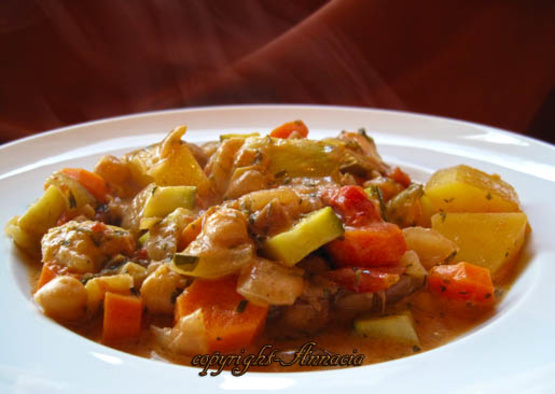 This is from 365 Ways to Cook Vegetarian. Serve with bulgur or couscous. I have not made this yet and yes, that does seem like a lot of garlic to me. Adjust to your own tastes.
Very nice recipe. Full of flavor and tasted great! I made a couple alterations that worked very well for me: 1. Replaced lemon pepper with 1/2 preserved lemon and 1 tsp of pepper 2. Addition of el Henout spice (middle eastern spice medley) to taste (roughly 2-3 tsp) 3. Decreased the amount of garlic to 1 full garlic (5 cloves) 4. I did not add the yogurt during prep. I served that on the side and allowed my family to add it to taste.
In a medium casserole, heat olive oil over medium-high heat. Cook onions, stirring occasionally until golden, 4-5 minutes.
Add garlic and cook, stirring 1 minute. Add tomatoes, carrots, potatoes and parsley. Reduce heat to medium. Cover and cook 20 minutes.
Add brown sugar, lemon pepper, cinnamon, coriander, zucchini, artichoke hearts, and garbanzo beans. Cover and cook for 10 minute.
To serve, discard parsley, Stir in yogurt and heat through.