Diana 2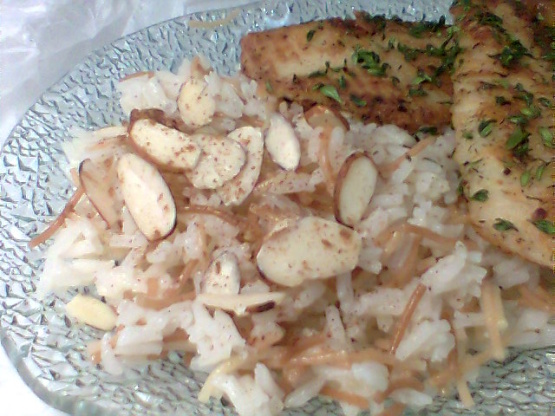 This is my Lebanese grandmother's recipe. You can use chicken broth in place of the water if desired.

5 stars with chicken broth instead of water, 1 tsp of cinnamon and a bit more explanation. First of all Id say break up the vermicelli noodles and make them more than a light brown but of course make sure they dont burn. Chef #186855 s picture has a good colour. Cook this in chicken stock, it will make all the difference. When I added the stock I shook in 1 tsp. cinnamon as well as the pine nuts and then cooked it for 15 minutes as directed. After that I fluffed up the rice with a fork and placed paper towels around the rim of the pot and tightly covered it leaving it on the same burner. This makes the rice fluffy and helps the grains be separate. I served this with Recipe #205125
Saute the spaghetti in the clarified butter or olive oil until light brown. Stir constantly to avoid burning.
Stir in the uncooked rice, then add the boiling water. Stir and allow to come back to a boil. Cover, turn the heat to low, and simmer until the rice is cooked, about 20 minutes.
Uncover and fluff the rice gently with a fork. Place in a serving dish and top with the pine nuts and a light sprinkle of ground cinnamon.