rpgaymer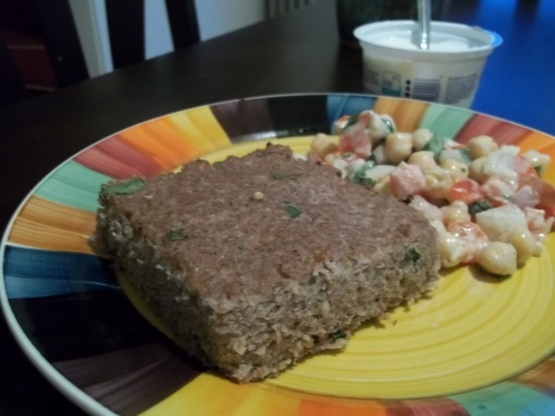 "My father is Lebanese. I remember the flat bread that his sister made, and grape leaves, and kibbeh—the foods we ate when we gathered as a family. Kibbeh was sort of a steak tartare. My dad ate it raw; no one else would. We flattened it in a pan and baked it like meat loaf," says fiber artist Dana Boussard of Arlee, Montana. I got this recipe off a Middle Eastern food site. It sounds so good and has 4 STAR RATING. I thought others might like it too. I am posting this dish for World Tour 2-Middle Eastern
Really tasty recipe. I realized while I was making this that this dish is basically kibbeh, which I've made before with less than stellar results. This turned out great though, and my partner (who is part Lebanese) said it tasted just like traditional kibbeh, minus the pine nuts. It was especially good with Greek yogurt smeared all over the top. Thanks for sharing.
Place bulgur in a fine strainer and rinse thoroughly with cool water.
In a food processor, finely chop the onions. Add beef, 1/2 cup water, pepper, cumin, cinnamon, and 1 teaspoon salt. Whirl until mixture is a smooth paste.
Add bulgur and 1/4 cup parsley; whirl just to mix.
Pat meat mixture evenly into a shallow 1- to 1 1/2-quart casserole. Cut through meat mixture to make diamonds 2 to 3 inches wide. Place a peppercorn in the center of each diamond.
Bake, uncovered, in a 425° oven until meat is no longer pink in center (cut to test), about 25 minutes. Sprinkle with remaining parsley and add salt to taste.
To serve, cut diamonds apart and accompany with yogurt.
Yield: Makes 4 servings.