Lebanese Lentils (Mujadara)
Um Safia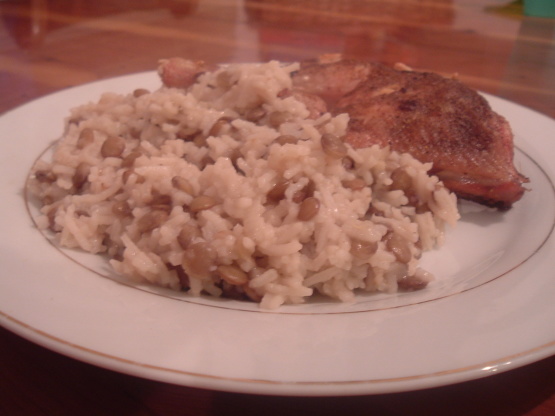 I grew up eating this- usually every Friday, because my family doesn't eat meat on Fridays. Its so good, I personally consider it comfort food. Its healthy, simple, and full of fiber! I often eat leftovers in a sandwich with veggies. Goes well with olives, pita bread, raw onion, celery, carrots, lettuce.
Heat oil in pan.
add onions, and cook on medium high heat until they are brown- stir occasionally.
stir in rice and lentils, mix in with onions.
add water.
add salt, mix contents.
cover and simmer.
This will take over an hour. The water will be absorbed into rice and lentils. Make sure they are soft. Sometimes you may need to add a little more water. Stir occasionally.
Best if served in a shallow bowl, and let sit for 10 minutes or so. Enjoy warm or cold.