Lebanese Lentil/Rice Pilaf With Blackened Onions
magpie diner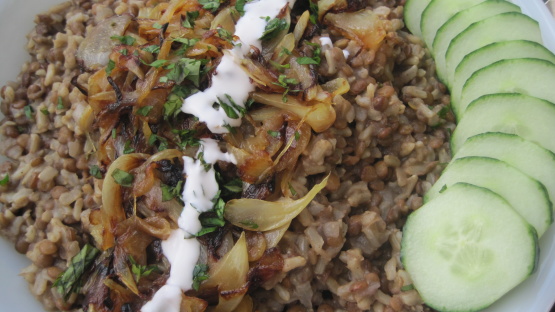 This recipe first appeared as part of a "meatless week-night meal" in the November, 2003 Bon Appetit. Originally posted by Mean Chef. Vegans can omit the yogurt.

Wow, this is almost exactly like the lentils and Rice my Grandma used to make. The key to the flavor is getting the onions nice and dark. Grandma used a cast iron skillet. Also, we served it with lettuce leaves sprinkled with lemon juice. She said using your hands to eat was "the Lebanese way." Of course Grandma was born in the states, so who knows! Thanks for posting!
Heat 2 tablespoons oil in large saucepan over medium-high heat.
Add chopped onion and next 4 ingredients; sauté until onion softens, about 4 minutes.
Add broth and lentils; bring to boil.
Reduce heat to medium-low and simmer, covered, 10 minutes.
Stir in rice; return to boil.
Reduce heat to medium-low; cover and cook until liquid is absorbed and rice and lentils are tender, about 15 minutes longer.
Meanwhile, heat 2 tablespoons oil in heavy large skillet over medium-high heat.
Add sliced onions; sauté until soft and beginning to blacken, about 20 minutes.
Season pilaf to taste with salt and pepper.
Transfer to plates; top with blackened onions.
Place tomatoes and cucumber alongside.
Top pilaf with dollop of yogurt.
Sprinkle with mint.