Lebanese Eggplant Salad - (Salatit El Batinjan)
JustJanS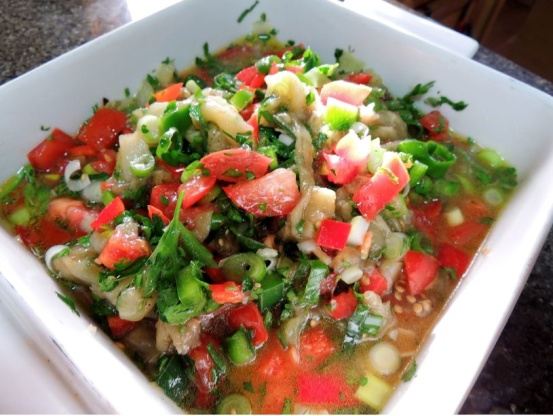 Eggplant lovers! Baked or grilled eggplant salad is very healthy and tasty. Try it! very simple and easy.

I thought this recipe was really delicious! The only modifications I made were to charbroil the eggplant and to substitute green chile for the bell pepper because I live in New Mexico. I would recommend this recipe to anyone looking for a refreshingly light appetizer. I am a huge eggplant lover and I can't wait to try this recipe out on my homegrown vegetables in the summer.
Put the whole eggplant as is, (only cut and remove the stem from the top), on a baking sheet and bake it. You'll notice when it's done that the juice came out on the baking sheet and the skin is almost toasted and it becomes soft when you punch it with a knife.
Let it cool for a bit then cut it in half and remove the skin; just cut it roughly into small/medium diced pieces and put it in the salad bowl, (it's ok if it has some juice still). Then add the rest of the ingredients and mix the salad and serve. This is good with pita bread on the side.