Lebanese Chicken With Rice
Terri L.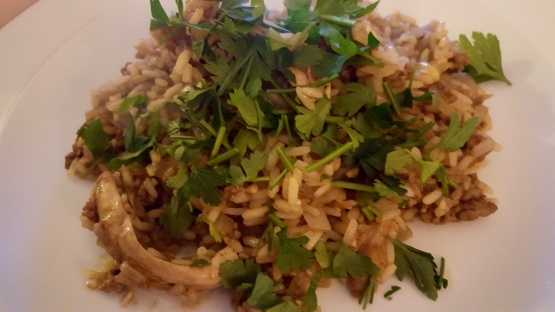 A delicious one-pot wonder which keeps for several days and is just as delicious cold.

Lebanese chicken with rice is probably one of the most traditional Lebanese dishes. This recipe is very authentic and extremely flavorful. I made double the quantity identified in the recipe and made a side of roasted potatoes, which were boiled first in chicken broth and cinnamon. I served this along side plain yogurt and pickles. An absolute hit!
Heat the olive oil over high heat in a pan.
Sauté the chicken on both sides until golden brown.
Remove the chicken from the pan and set aside.
Add the onion and ground beef to the same hot pan.
Cook until the onions and meat is beginning to brown, then add the garlic and cook another minute or two.
Add the cinnamon, allspice, cayenne pepper (or chilli flakes) and salt; sauté two minutes while stirring.
Stir in the rice making sure that it is fully covered with the oil and spices, place the chicken in the rice.
Add the pine nuts.
Pour in the stock or water and cover. Cook slowly for about half an hour. Stir occasionally and as you do so allow the chicken to break up. You may need to add extra hot water if the rice gets a little dry.
Remove the pan from the heat and sprinkle with minced parsley.