ktenille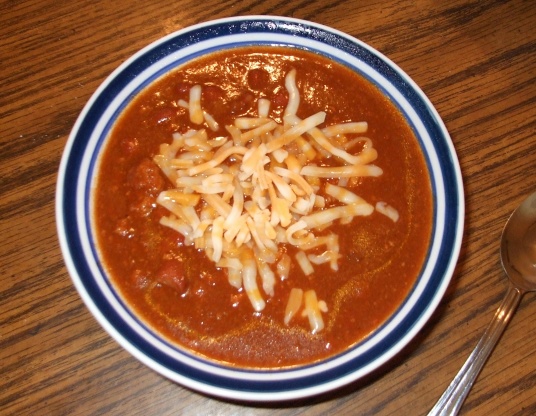 I'm VERY picky about my chili as I get terrible heartburn. This is how my mom always made it and it's the ONLY way I'll eat it. It's one of my favorite things to make in the colder months. Yes there IS a story behind the name. My best friend lived right next door to me for a year and was always more than happy to eat dinner with us. One night she was over and I made this chili. After wolfing down the entire bowl she said to me "you can never let my boyfriend have this ever!" When I asked why she responded "he would definetly leave me for you." :) Hope you all love it as much as we do.

This was a wonderful easy dish that cooked while I was at work!!!
1

(46 ounce) bottle V8 vegetable juice

1

(1 1/4 ounce) packet chili seasoning mix (mild or spicy depending on your)

1

(14 ounce) can chili starter (I use Bush's chili starter with beans)

2

lbs ground beef

1

(16 ounce) can kidney beans (optional)
*Note for a soupier chili use a 64 oz bottle of V-8 juice.
Make ahead meal:.
Break up hamburger.
Mix all ingredients in crock pot.
Cook on low 7-8 hours.
Stir before serving.
Faster meal:.
Brown hamburger.
Mix all ingredients in large pot and bring to boil.
*Note: I think this has much more flavor when prepared crockpot style.