Rita1652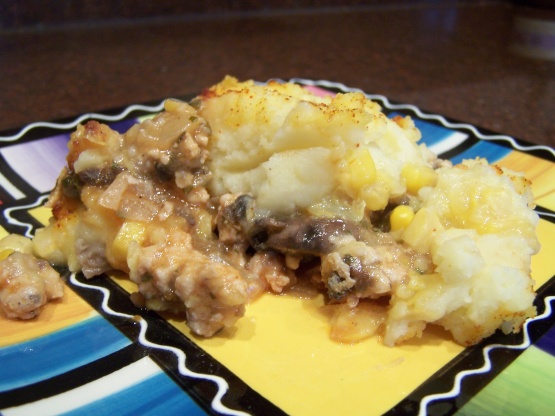 I've tried several Shepherd Pie recipes but I keep coming back to this one. This is one of the few that calls for cream corn & worcestershire to add a different twist to the recipe. Adapted from 'Cooking for the Rushed' cookbook. The original recipe uses instant mashed potatoes but I prefer to use regular ones.

Wife and I really enjoyed your dish tonight. Was simple and tasty. Did ratch it up a notch with some chopped onions and bell pepper. And, if one not adverse to calories, some sharp cheddar on top during last few minutes would be 'frosting on the cake'.
Preheat oven to 375°F.
In a large fry pan, brown meat until it is no longer pink.
Add ketchup, worcestershire sauce & seasoning to cooking meat. Stir well.
Pour meat mixture into a large rectangular pan.
Rinse frozen corn & spread it evenly over the meat mixture.
Spread the creamed corn next.
Top casserole with mashed potatoes and sprinkle with paprika.
Bake uncovered for 40 minutes. If you like the top abit crunchy, broil a few minutes before removing from the oven.