Lazy Stuffed Cabbage Casserole
Lorac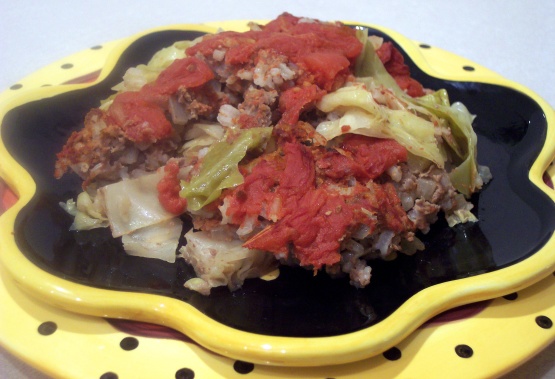 We love stuffed cabbage, but it takes quite a bit of time to prepare, my mom gave me this delicious casserole and it sure is one of our favorites.

This so good. We have made it 3 times now, I'm pretty sure it will be a staple dinner at our house. The only thing we change is adding more more tomatoes. We put in two cans of chopped tomatoes and a can of tomatoe sauce. The first time I didn't add the 2nd can of chopped tomatoes and we ended up adding V8 cause it was too dry. Thanks for sharing!
Mix chopped beef, rice, onion, butter, and egg.
Salt and pepper to taste.
Grease 3 quart casserole.
Line bottom of casserole with 1/2 cabbage; add 1/2 meat mixture; top with rest of cabbage, then rest of meat mixture.
Top with chopped tomatoes or tomato sauce.
Cover, bake at 350 degrees for 1 hour; uncover and bake an additional 30 minutes.
Tastes just like stuffed cabbage without all the work.