HisMonie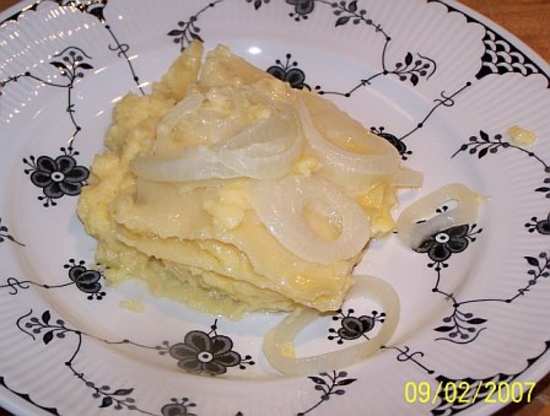 The taste of pierogies without all the fuss!
This dish did not remind me of pierogies. The bottom layer of noodles got very chewy. I think it needs something in the bottom of the pan before placing the noodles. Maybe some of the butter mixture. The fat content is a little high for my diet also. I tried reducing the butter and cheese and did not serve with sour cream. It is rather plain this way. Maybe if I used reduced fat sour cream it would help.
Cook lasagna noodles and drain.
Line bottom of 9x13 pan with a single layer of noodles.
In bowl mix mashed potatoes, cheese, egg, and spices.
Spread half over noodles.
Cover with another layer of noodles, then potato mixture.
Melt butter or margarine in fry pan, saute onion until clear and soft.
Pour over noodles.
Cover with foil.
Bake 30 minutes in 350F oven.
Let stand 10 minutes before cutting.
Serve with sour cream.