lets.eat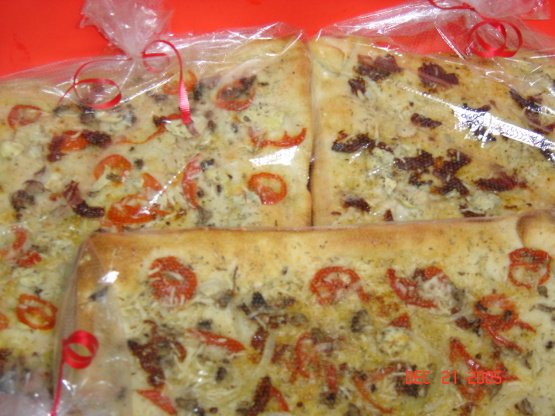 A simple, fast focaccia bread for lazy nights. This looks fancy, but starts with a tube of pizza dough. Adapted from Woman's Day. If you don't care fro olives, try other toppings - such as oil cured sundried tomatoes or marinated artichoke hearts (drain well).

Okay...I guess this means I'm lazy! This came out really well, I made 3 of these to go w/#43336(Pasta E.Fagioli Mix) for gift baskets for my DS's teachers for Holiday Gifts. I topped them with an assortment of sliced onions, grated parmesan, marinated artichokes, mushrooms, sundried tomatoes, and also used sliced de-seeded cherry tomatoes. Instead of using olive oil to drizzle with I used the olive oil from the jarred sundried tomatoes. I asked the deli dept. from my supermarket for a few Focaccia bags, so it was a perfect fit. Thank You HeatherFeather!
Prheat oven to 425 F and lighly grease a large baking sheet to cover an 8x10" area.
Unroll dough onto the greased area of pan, pressing any seams together and forming into an oblong shape (don't press it too flat)- it can be an uneven shape (gives it a rustic look).
Using a wooden spoon hadle tip, gently press indentations all over the surface of the dough- making little craters.
Sprinkle dough evenly with olives, rosemary, salt, and pepper, then drizzle with the oil.
Bkae 12-15 minutes, or until bottom and edges are golden brown.
Remove to a cutting board and cut into 12 squares, strips or triangles- they can be uneven shapes.
Serve warm.