Lazy Man's Version of Pharris' Peanut Cookies
Ms B.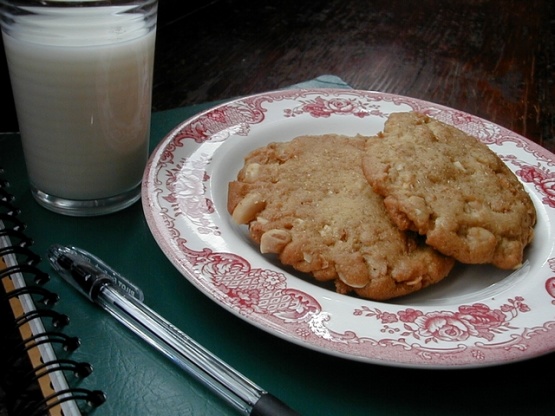 When I was growing up, the local bakery made the best peanut cookies. One day, with a large tub of peanut butter cookie dough purchased from a school fundraiser on hand, I had the inspiration to recreate those goodies. These aren't exactly that cookie, but they are very good with a different texture than most peanut butter cookies and lots of chunky peanuts.

DH just tore these up! He has been dietintg but still has a huge sweet tooth and I felt good about making these. Loved the convenienice of the pre-made cookie dough plus adding something healthy. A keeper!
16 1⁄2 ounces peanut butter cookie dough, refrigerated type

1

cup wheat flakes cereal, crushed

1

cup salted peanuts, chopped

2

tablespoons unbleached cane sugar
Preheat oven to 350°.
Break up cookie dough in a large mixing bowl.
Stir in the crushed Wheaties cereal.
Stir in the chopped peanuts.
Roll dough into 1-inch balls.
Place sugar in separate small bowl.
Dip balls in sugar.
Place balls of cookie dough 2-3 inches apart on baking sheet lined with parchment paper.
Flatten balls of cookie dough with the bottom of a glass.
Bake cookies for 10-12 minutes, until edges are browned.
Cool on wire rack.
Store in air-tight container.