BecR2400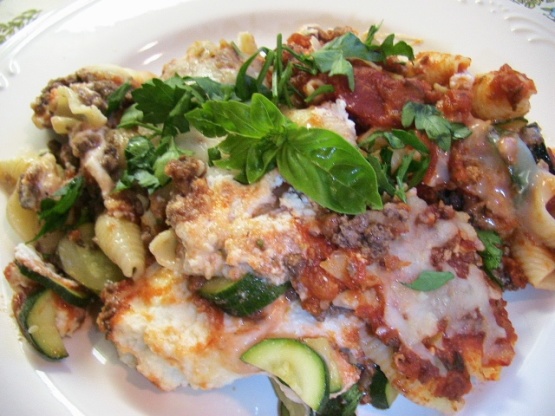 Because it's too much trouble messing with lasagna noodles and making those careful layers. The quality of the chosen sauce is key. A friend of mine couldn't figure out how she could make the same recipe I did but mine was better until we realized that she was buying a cheap, minimally seasoned spaghetti sauce. Use more or less sauce according to how wet your family prefers lasagna. Lazy Lasagna is easy to halve or double, just adjust the cooking time for the smaller or larger pan.

This makes a ton, but my husband loved it and had no problems eating leftovers on this!
Cook pasta a bit less than fully done.
Grease a 9x13 pan with olive oil.
Layer 1/2 the amount each of pasta, ground beef, ricotta, parmesan, spaghetti sauce, and mozzarella in that order.
Repeat except for the mozzarella.
Draw a wooden spoon through the layers in an S-shaped pattern to mesh the layers without actually stirring them together.
Top with the remaining mozzarella.
Bake at 350F for 30-45 minutes or until the cheese is as brown as you like it and everything is bubbling hot.
Note -- steamed and drained zucchini or very well-drained, frozen spinach is a good addition.
Note -- Can substitute ground turkey or chunks of cooked chicken/turkey for the ground beef if desired.