Bone Man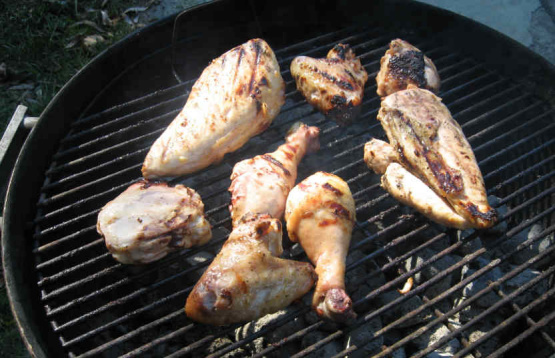 I had a friend call me one evening to request a chicken grilling recipe for the following day. Off the top of my head, I quickly mentally evaluated the key ingredients of a good marinade, and knowing how lazy this guy was, I just told him to go buy some cheap Italian Salad Dressing, marinate the chicken overnight, and then grill it. He called me the next evening with a big WOW! So I did the same thing (and have done so many times since) and it makes for some really great grilled chicken. I sort of tweaked it later with the mustard but it's fine without it. Prep time includes marinating time. Enjoy!
Poke the chicken parts with a fork, 3 or 4 times for each piece.
Pour the Italian Dressing (blended with the mustard if using) over the chicken in a non-reactive bowl and allow to marinate overnight, turning it at least once.
Grill the chicken pieces on a gas or charcoal grill using indirect heat for about 45 minutes. Check a thigh with a fork -- it should be tender and not pink near the bone when done.
NOTE: You can generate indirect heat in a charcoal grill by laying a throw-away aluminum pan over the coals or, by moving the coals to one side of the grill.