Lazy Garlic Parmesan Risotto
Chickee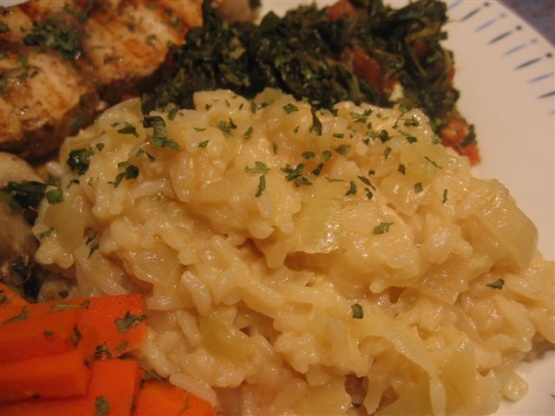 This is a creamy, cheesy risotto with a hint of garlic. I call it lazy because it takes much less time than an authentic risotto. It may be lazy, but it tastes just as yummy!

Tasty rice dish, I was a little worried because of the method, but it turned out fine in the end with the parmesan cheese making it more creamy. I added half a glass of white wine before the water step, I did also finish the way I usually do a risotto- with a squirt of lemon juice and a knob of butter. Next time I'd like to use aborio or risotto rice as it would improve the texture. But it was a great lazy risotto! Thanks!
In a medium saucepan over medium heat, melt butter. Saute onion and garlic until tender but not translucent.
Add rice to saucepan, cooking and stirring for two minutes.
Slowly stir in water and bouillon granules and bring to a boil.
Reduce heat to medium-low, cover and simmer for 20-25 minutes. (Note: Do not lift cover while simmering, as you want to contain steam and heat to cook properly.).
Remove pan from heat. Rice should be tender but slightly firm, and mixture should be creamy. Stir in parmesan and serve.