lazyme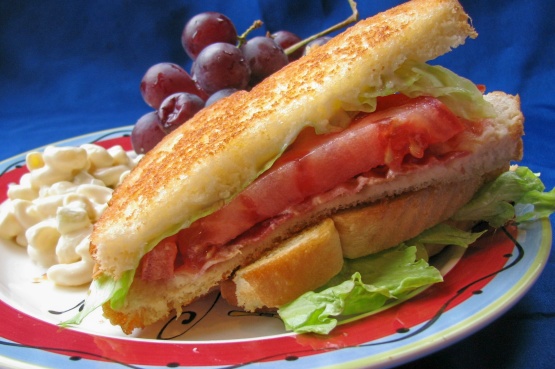 This recipe was born from a lazy snowy day and not wanting to stand over a stove for lunch. What makes this sandwich different from others is the process in which its made. Hope you'll enjoy!

this was surprisingly unbelievable! the method of making the bacon makes it, absolutely. i, too, omitted the salt, but the brown sugar and pepper took the protein to a new level! i sliced the top and bottom ridge off of a quarter of fresh baguette, so as to acquire a flat surface to grill the bread. i knew i was craving a blt, but this beyond hit the spot! i don't know if i'll ever cook my bacon in another fashion, ever again. thank you for a delicious sandwich!
Lay strips of uncooked bacon over a sheet pan fitted with a rack. This will allow the bacon fat to drip off onto the sheet pan and cause the bacon to crisp when baked.
Lightly sprinkle some fresh ground black pepper and brown sugar over the uncooked bacon. Add some kosher salt depending on how salty you like your bacon.
Place the bacon in a cold oven and then set the oven temp to 400 degrees and bake for about 10 to 15 minutes depending on how crispy you like it and thickness of the bacon. (I start checking on it around the 7 minute mark)
Move the cooked bacon to a plate covered in paper towels to drain.
Brush on the melted butter on one side of the bread and grill buttered side till golden brown.
Add bacon, tomatoes, lettuce and mayo to grilled bread slices, pop open a beer and enjoy!