Lazy Banana Muffins (In the Oven in Just over 5 Minutes)
Annacia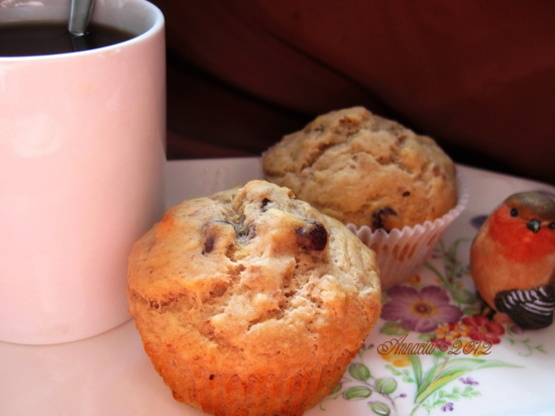 A yummy easy muffin - I stumbled on in an attempt to use up the left over sour cream & some browning bananas - I whipped out my trusty blender and threw this togeather with some items I usually keep in the cupboard. In just over 5 minutes they were in the oven....and most of that time was spent trying to separate the patty papers from each over.

Nice discovery on a day I had bananas needing a home and great use of pantry items. The batter seemed a little thin, but baked into beautiful muffins. The muffins are delicious, lots of banana flavor and sweet without being cloying. Thank you for sharing the recipe! Made for Fall 2012 Pick A Chef.
Pre heat oven to 180 c of 350f.
Grease & line muffin tins with liners.
In a blender place - egg, bananas, golden syrup, lite sour cream, canola oil & vanilla.
Blend until smooth.
In a large bowl combine remaining dry ingredients & make a well in the centre.
Pour banana blend into the well and mix until JUST combined (Over mixing will make a tough muffin and exhausts a chef who just wants to go put her feet up).
Spoon equal amounts into the 12 holes.
Bake for 20 minutes. Allow to cool in tin for 5 minutes before turning out on a rack to cool.
Yummy warm with a coffee.