Layered Zucchini & Yellow Squash Casserole
Babs7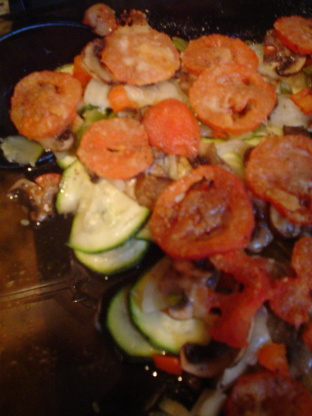 A great veggie casserole when vegetables are at their peak and you just can't resist all the great produce at the farmers' market.

I'm giving it 5 stars because I made slight changes to it and I hate it when people make changes and then give the recipe less than 5 stars. DUH! Anyway, I loved the idea to get rid of veggies in my fridge but here are my changes and we thought it was great: Someone said that it was plain so I added some chopped garlic, red bell pepper and garlic powder and sprinkled a lot of salt and pepper. Didn't have mushrooms but didn't miss them. I also used cherry tomatoes and chopped them up, put it all in order as the recipe says but put it in a 10x13 in. glass casserole dish (I think a metal baking pan would have been better, this adds more browning) and added almost a half a cup of pats of butter. 2 Tbsp. of butter is just not enough for that many veggies. So I'd say use more butter and parmesan cheese to taste. Ginny thank you for the idea! We liked it!
Lightly grease an 8 inch square baking pan (or spray with Pam).
Layer the vegetables in the order listed, sprinkling each layer with salt and pepper as desired.
Dot the top with butter, and sprinkle with Parmesan cheese.
Bake at 350F for 35 minutes or until crisp-tender.