Pam-I-Am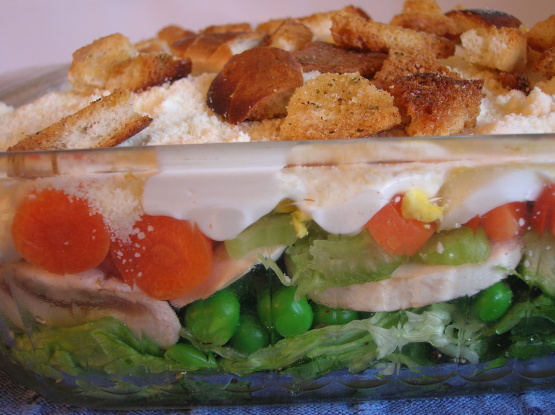 This is a fantastic salad which is slightly similar to a caesar salad but with more ingredients for greater taste.

I'm assuming you mean 1/2 head of lettuce. I used iceberg as this classic salad calls for. I didn't think 2/3 cup of mayo was quite enough. I used light and increased it to 3/4. I also sprinkled some parmesan cheese on top to give the dressing a nice flavor. There are many versions to this salad and yours is a good one.
Arrange lettuce at the bottom of the bowl (Preferably a deep dish).
Sprinkle cooked bacon pieces.
Cut and slice all of the vegetables except the carrots.
It's best to grate them.
Place all the vegetables on top of the bacon pieces.
Sprinkle with cheese.
Combine salad dressing and sugar in a separate bowl.
Spread over the salad.
Cover and refrigerate for an hour before serving.
Before you serve toss the salad and add the croutons.