Layered Nutella Cheesecake
dawn2701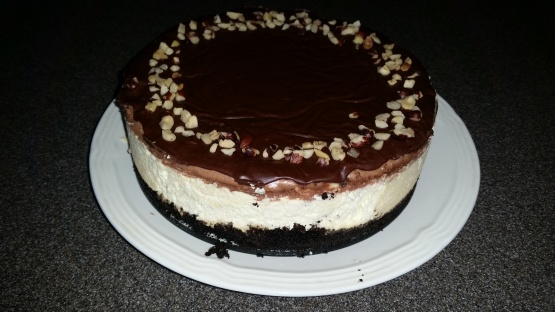 Best made a day in advance or early in the morning to allow cooling time. Using heavy cream instead of sour cream lends itself to a wonderful texture comparable to the cheesecake factory dishes. I found this recipe at homecookingadventure.com
Preheat oven to 350 degrees F. Mix Oreo crumbs and melted butter, press into springform pan. Bake for 13-15 minutes, reduce oven to 300 degrees F, remove pan and cool.
Beat cream cheese with 3/4 cup heavy cream until well combined and somewhat whipped/fluffy. Add sugar and cornstarch and mix.
Add vanilla and fold in eggs one at a time (folding them into reduces bubbles and the chances of the cheesecake cracking while baking.
Pour cream cheese mixture into crust while keeping 1/3 of the entire mixture in the bowl.
Mix in 2/3 cup of Nutella and 2 Tbsp. heavy cream. Pour this on top of the cheesecake to create a layer, spreading carefully with a rubber spatula.
Bake (at 300 degrees) for 45-55 minutes. Turn off heat (do not open oven door) and let rest for 1 hour.
Remove from oven, run knife around inside edge of pan to loosen. Let cool completely to room temperature.
For nutella topping: bring 1/3 cup heavy cream to boil, remove from heat, mix in 2/3 cup Nutella, pour and spread over cheesecake.
Add 1 oz of chopped hazelnuts if desired, refrigerate overnight in fridge and serve.