Mika G.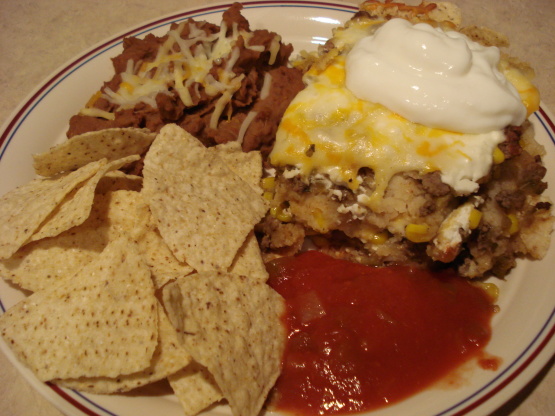 My kids love this casserole. It's quite simple to make, yet tasty.

Top Review by sandra
Since my first try on 2-20-08, I finally made this recipe again--and had better results this time. I think the first time, I had crushed the chips too finely, thus using far more than I needed. They should be crushed LIGHTLY, with your hand, leaving them in fairly large pieces. The 9 X 13 pan was still pretty full (a little above the top), but the foil over it helped everything to stay in place and the meal was delicious. A great balance of everything. Yum! We'll add it to our "regulars."
Preheat oven to 350°F
Brown beef in large skillet with onion and green pepper; drain.
Return to skillet and add corn and salsa and cumin and chili powder; mix well. Cook until heated through, stirring occasionally. Set aside.
Mix cottage cheese and sour cream.
Layer 5 cups of the chips, 1/2 of the meat mixture, 1/2 of the cottage cheese mixture, and 1 1/2 cups cheddar cheese in a 13" x 9" casserole dish.
Repeat layers of chips, meat mixture and cottage cheese mixture and finally remaining cheddar cheese.
Cover lightly and bake 35-40 minutes.