Layered Ginger Chicken Dip
Prep 30 mins
Cook 10 mins

An Asian interpretation of the layered dips that are so popular! This always goes quickly whenever I've made it.
Directions
For the sauce: Combine the water, brown sugar, and cornstarch in a saucepan and mix well.
Cook over medium heat until the brown sugar and cornstarch dissolve, stirring frequently.
Stir in the catsup, vinegar, Worcestershire sauce, and Tabasco sauce; simmer until thickened, stirring frequently.
Let stand until cool.
For the chicken layer: Combine the chicken,carrots,peanuts, and green onions in a bowl and mix well.
Stir in the soy sauce,cilantro,gingerroot,sesame oil, and garlic.
Chill, covered, in the refrigerator.
For the cheese layer: Beat the cream cheese with the milk until light and fluffy, scraping the bowl occasionally.
To assemble: Spread the cream cheese mixture over the bottom of a flat 12 inch plate.
Spread with the chicken mixture.
Drizzle the sauce from a spoon over the chicken layer in a decorative pattern.
Chill, covered, until serving time.
Serve with rice crackers.
Reviews
Most Helpful
Delicious! Five stars for taste but we found it too messy to eat as a dip. This would be the perfect filling for small egg rolls or maybe even a pizza topping. Yum!

This is SO good. I have used store bought rotisserie chicken to make it. I don't have a mixer so I have used whipped cream cheese instead of mixing at home. When I take this to parties I like to to wait to put the sauce on once I have gotten to the destination, the container from the whipped cream cheese makes a great vessel to transport the sauce!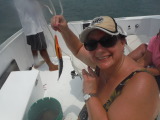 Made this for a work event and it went really quickly. This one's a keeper !