teresas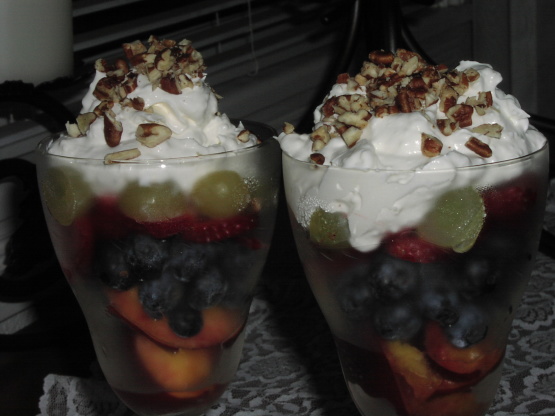 To dress up a fresh fruit salad, top it with a sweet creamy concoction. 'The original recipe called for heavy whipping cream, but I lightened it up a little,' 'Served in a cut-glass bowl, this salad looks elegant on any table. It's quick and easy to make but looks like you fussed.'"

OMG...this is so darn good...I could just eat the topping like people eat popcorn...just hand me a bowl of this stuff...I guess the fruit is to make you feel like you are eating healthy...kick that to the curb and just chow down on the topping with the pecans...love it...made for FYC tag game...
In a 2-1/2-qt. glass bowl, layer the fruits in the order listed. In a mixing bowl, beat the cream cheese and confectioners' sugar until smooth; fold in whipped topping. Spoon over fruit. Refrigerate until serving. Sprinkle with pecans.