Boomette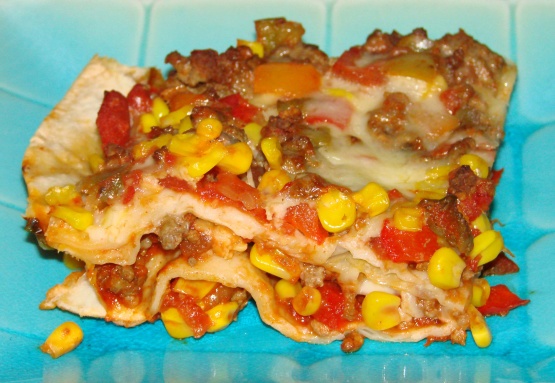 This sounds good--it's like a veggie and meat taco lasagna.
I used only 1 large green bell pepper. I probably added more corn than requested. I had large tortillas so I needed only 4. I made a mistake by adding the cheese on top before putting it in the oven. I guess it's still ok as it's so good. I added chili powder cause the salsa I used was mild and I thought it would be great in it. Thanks Margie :) Made for 123 hit wonders
Preheat oven to 375°F.
Brown meat with peppers in a large skillet; drain. Return meat mixture to the pan and stir in salsa, tomatoes and corn. Bring to a boil.
Spoon 1 cup of the meat mixture onto the bottom a a 13x9-inch" pan, top with 6 tortillas, overlapping as necessary. Spoon half of the remaining meat mixture over tortillas, sprinkle with half the cheese.
Top with the remaining 6 tortillas and then the rest of the meat mixture. Cover it with foil.
Bake for 25 to 30 minutes or until heated through. Remove from the oven, uncover and sprinkle with the remaining cheese. Let stand 5 minutes or until cheese is melted.