marci h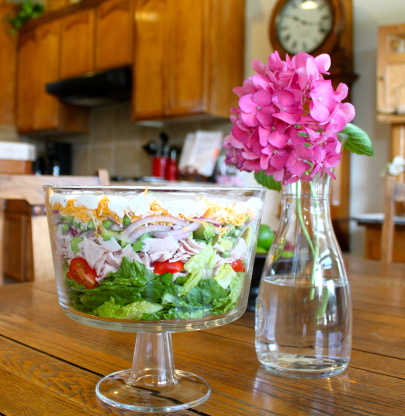 Light and packed with protein, this is easy! Adapted from Family Circle magazine. The Cobb salad was a signature menu item of the legendary Brown Derby in Hollywood, a landmark restaurant in Los Angeles, California. Variations of the salad are now served in restaurants world-wide.

I made this per instructions except for three things. I substituted cubed Roma tomatoes for the grape tomatoes, added sliced hardboiled eggs because my DH remembered Cobb Salad that way, and served the dressing on the side because not all of my picky family likes bleu cheese. That said, the salad was beautiful, went together nicely, and was enjoyed by all. Thank you! Reviewed for Wonders 2008.
In the bottom of a 14 cup glass salad bowl or trifle dish, place the washed and sliced lettuce. Pack down tightly.
On top of lettuce, neatly layer tomatoes, chicken, avocados, red onion, peas and cheddar cheese. Press down lightly.
Spread the blue cheese dressing(or ranch) over the top. Refrigerate at least 1 hour. Sprinkle the bacon bits on top just before serving. Enjoy!