2Bleu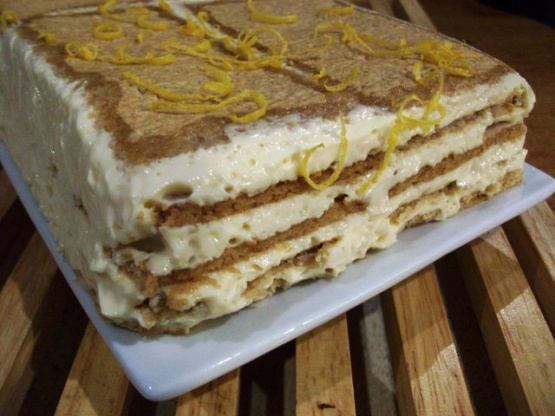 Great make-ahead, lemon no bake dessert. As the dessert refrigerates overnight, the wafers sofen and absorb the milk. From Kraft Canada. Do not use low fat products; the result will not be the same. Time includes overnight refrigeration time. Posted exactly as written on Kraft Canada website. Please read the review from 2 Blue for helpful tips on can sizes and lemon juice.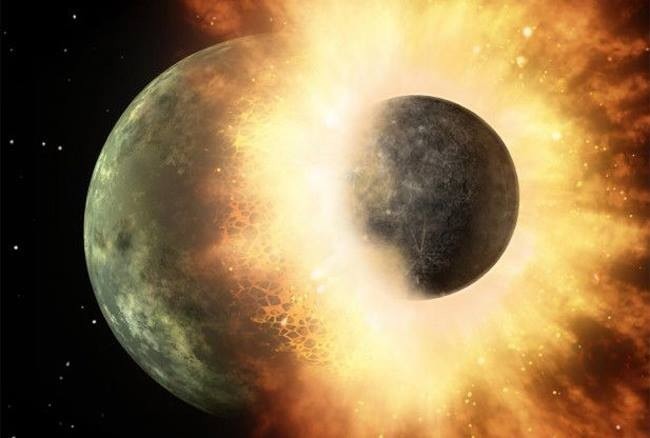 Top Review by 2Bleu
4 ingredients, no bake easy! Think a lemon pie version of banana pudding made with vanilla wafers. This best describes this recipe. Although the (U.S.) amounts are different, this is a delicious recipe! [Per the cans, I used ~Sweetened condensed milk (Eagle Brand) is 396g or 14 oz. ~Evaporated milk (Pet Brand) is 354ml or 12 oz. ~Lemons - I used 2 large, and still needed more. 2 large lemons got me just a tad over 1/4 cup, so I used Real Lemon Juice to equal 7 Tbsp (to get just shy of 1/2 cup total). This recipe also took 20 crackers (a box has 3 pkgs of 9 each) and for the wee bit I had to break off to fit the pan, I simply crumbled to fill in the gaps]. I got 4 cups/layers of filling, and 5 layers of graham crackers. No matter, it all worked out perfectly. This tastes exactly like lemon pie, only made easier and more elegant made like a torte. I added the lemon juice and rind all at once to the milks and just whisked away. I served with a dollop of cool whip to each plate and it's great as it tones down the tartness of lemon. Although it looks heavy (like old country mortared bricks, and why you should cover the top with cool whip as directed), it's very light and refreshing and perfect for an easy, no-fuss, 1 bowl, no-bake summertime treat. Since there is just the two of us, I didn't want to leave the cool whip on the left-over for fear it would get soggy. Definitely a keeper recipe, thanks so much for posting!
Grate zest from 1 lemon; set aside.
Cut both lemons in half; squeeze to measure 7 Tablespoons juice.
Mix condensed milk and evaporated milk in a small bowl.
Add lemon juice, 1 Tablespoon at a time, stirring with fork after each addition until well blended. Mixture will thicken to a soft custard-like consistency.
Stir in lemon zest.
Line the bottom of an 8x5x3-inch loaf pan with plastic wrap.
Arrange 6 wafers on bottom of the pan, trimming if necessary for a snug fit.
Cover with 1 cup milk mixture, spreading to completely cover wafers.
Repeat layers twice.
Cover with remaining wafers.
Refrigerate overnight.
Unmold onto plate just before serving.
Spread Cool Whip over top of dessert.