Layered Chicken and Artichoke Casserole
ChefDebs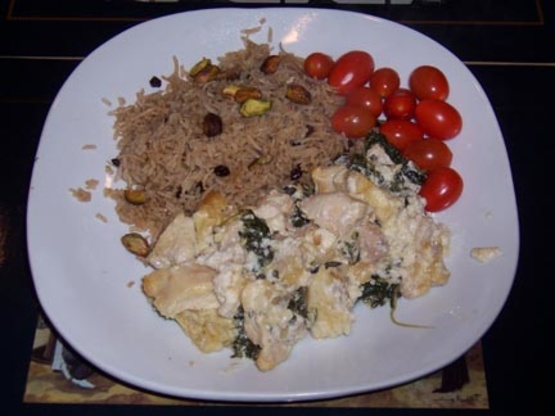 This comes from the "Heart and Soul: cookbook from Memphis.My whole family love this one. Good with plain buttered pasta and a green salad on the side.

Top Review by Thea
This didn't have quite the umph I was looking for. I added 1/2 tsp of tarragon, black pepper and a few pinches of red pepper flakes to try and give it some flavor. I used Madeira instead of sherry and simmered the onions, garlic and mushrooms in the skillet when the chicken was just about poached...It smelled wonderful...just felt it was flat...and doubled the sauce as we like more. I will make this again and see if I can tweak it a bit more. Will edit my comments after that. Thanks for a good base recipe!
Cook spinach according to the directions, drain, squeezing out excess liquid.Stir in water chestnuts. Set mixture aside.
Preheat oven to 350.
In a 12" skillet, arrange chicken breasts and add 1/2 cup of the sherry and the bay leaf. Bring to boil and cover and reduce heat , allowing to simmer until no longer pink, about 20 mins.Drain and set chicken aside.
In the same skillet, melt the butter and saute the mushrooms, green onions and garlic over med heat for 5 mins, until tender, set aside.
In a med bowl, stir together mayonnaise, 1/2 cup of the parmesan cheese, sour cream and remaining sherry.
To assemble, spread spinach mixture evenly in the bottom of a 13 by 9 by 2 inch baking dish. Top with chicken breasts, artichokes,and mushroom onion mixture.
Spread the mayonnaise mixture over the top and sprinkle with thr remaining parmesan cheese.
Bake for 30 mins or until heated through.