Layered Carrots and Rice – Jizer M'tubuq
Hudakore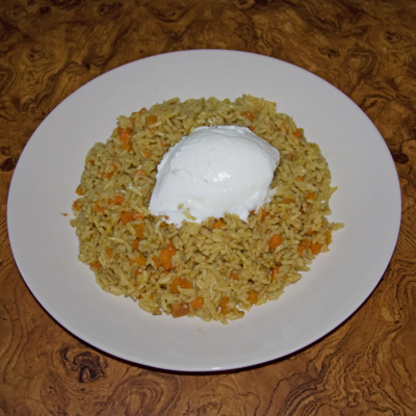 A wonderfully fragrant and tasty dish using fresh carrots, onion, spices and rice. It's a 1-pot dish and easy to make. It's especially delicious when served with dollops of tart plain yogurt.

This recipe was very good, especially that it could be made completely in my rice cooker! It makes a good base for a pilaf. I served it along with quartered boiled eggs, quartered deep fried potatoes and sultanas. I made 2 cups of rice and used 6 small carrots, 4 tablespoons of oil, 2 teaspoons of salt (I wasn't sure why there were 2 measurements for oil and salt so I used just the first measurement). I used my rice cooker and a tiny bit of rice at the top didn't cook so I added half a cup more water mixed the rice (pushing the uncooked bits of rice to the bottom) and pushed the cook button of my rice cooker down again for another 5-10 minutes (Every time it would spring back up I would push it down to cook again). Next time I will probably use less carrot because I want it a bit less sweet, and I might add a few other spices to the mix and I will add peas and corn (as well as what I added before) and serve it along side some curried meat or grilled spicy chicken. But it is a really great base recipe that can be used in so many ways. My husband really enjoyed it with yoghurt also.
Peel and slice carrots lengthwise then cut each strip into 2 or 3 more lengthwise strips. Bunch together and cut strips into roughly ¼ inches producing diced carrots. Perfection not needed. If you're lucky enough to have a gadget to do this, that's great.
Dice the onion.
If you have a rice cooker, the rice into the cooker and add water (according to manufacturer's recommendation) for rice only. Then place all other ingredients into cooker and stir to mix. Close cooker and allow to go through normal cooking time.
If you don't have a rice cooker, put all the ingredients into a large pot. Add water to about one finger's width above the contents in the pot and cover. Bring to a boil and immediately reduce heat to low and allow contents to steam for about 30 minutes.
Traditionally, when the rice is half cooked, it's divided in half, the carrots and onions are laid on the bottom half and the rest of the rice is then laid on top, hence "m'tubuq" meaning "layered". Cover again and continue to steam.