Layered Beef and Mashed Potatoes (Crock Pot)
Redsie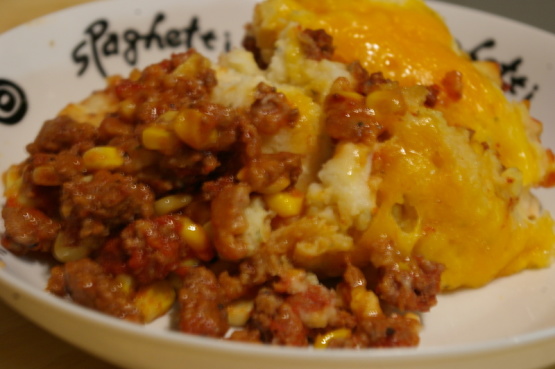 Do not make this recipe...it is not good!!!***Posting later to let everyone know...I wouldn't make this recipe again, I posted it on a friends recommendation. I really do not care for this recipe and do not recommend that you make it!***My friend from work gave me this recipe. She has to feed a wide spread of ages; she has herself and her husband, a 17 year old, 9 year old, and an almost 3 year old. She said everyone loved this. When she got home from work, everyone had already started on it, and she only got a little tiny bit! So I knew I had to give it a try! I tried it using homemade mashed potatoes, and they sort of ran down into the meat. I think the instant potatoes would be drier and probably work better in the recipe.
Made this last night and it is very blan,took the advice and cut back on the salt but that didn't help at all.I would use real potatoes instead if potato flakes!It takes to much moisture to rehydrate the flakes and turned out like mush! If you do use real potatoes you will have to cut back on the tomato sauce,water,sour cream!You will know when there is a enough moisture by the texture,it should be stiff.
In a skillet, brown the hamburger and drain well. Place beef in the crockpot and add tomato sauce, corn, onion, salt and pepper. Mix well.
In a bowl, mix the potato flakes with the sour cream and water. (I used homemade mashed potatoes and added the sour cream to them!).
Spread the potato mixture over the beef.
Cover and cook on Low for 7-9 hours, depending on your crockpot. In the last hour of cooking, top with the shredded cheese.