Annacia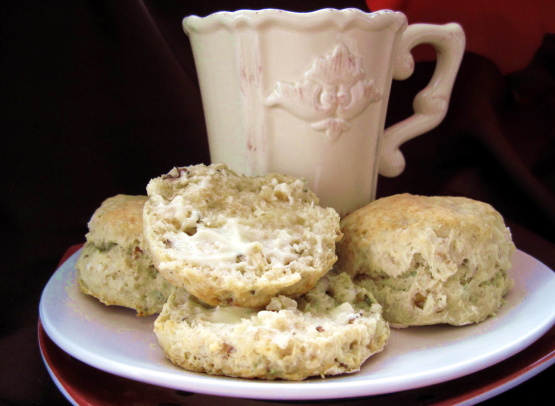 This recipe comes from Herb Companion magazine. Lavender scones made a lovely, exotic treat with herbal tea on a winter afternoon. They pair well with apricot jam, clotted cream, lemon curd, or cream cheese. Enjoy!

Good grief! I can't believe I haven't reviewed this recipe! I have been making this recipe for years for our annual ladies tea at church. It is wonderful with lemon curd and mock Devonshire cream. I sub the honey for granulated sugar and use half the lavender called for because I generally use dried. I brush the tops with cream or butter and sprinkle with raw sugar before baking. These never disappoint.
Preheat oven to 400 degrees. In a large bowl, combine flour, oats, baking powder, baking soda and salt. Cut in butter until the mixture resembles coarse crumbs. Add walnuts and lavender, mixing until combined.
Make a well in the center of the flour mixture. Add the egg, honey, buttermilk and vanilla. Stir to combine, mixing to form a soft dough. With floured hands, pat the dough into a round about 1 inch thick and cut into smaller rounds using a large cookie cutter.
Place scones on a non-stick cookie sheet and bake for 12 to 15 minutes, or until lightly browned. Remove from heat and serve warm or let cool before serving.