Rita1652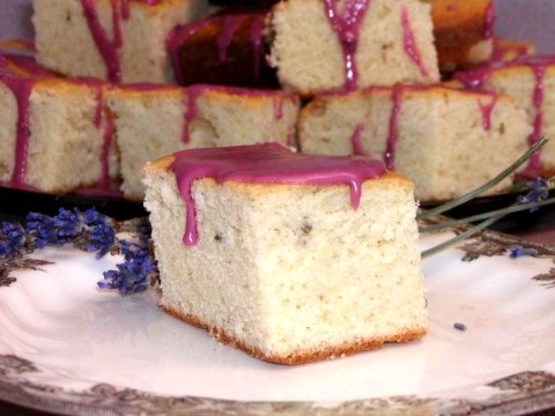 You can ice with my recipe for lavender icing! You all have just got to grow lavender! This is a cake that is on the dry side but very good if you want go ahead and pour some of this (OPTIONAL)syrup on it Moisten & Flavor the Cake With This Simple Syrup Moisten & Flavor the Cake With This Simple Syrup. You have your choice of flavors but I would go with the lavender!

Cake had ggod texture but I think there could have been more lavender to provide a more distinct flavor. I made it at work, and customers liked it. I frosted it with lavnder colored frosting and sprinkled little frest blooms on top. Very pretty
Pre-heat oven to 350 degrees.
Butter and lightly flour a 13x9x2" baking pan.
In a mixer, cream butter and sugar until light and fluffy.
Beat in egg yolks one at a time.
On low speed, add cake flour alternately with milk.
Beat in baking powder and vanilla.
Beat in lavender flowers.
Pour into prepared pan and bake for 50 minutes at 350 degrees, until cake tester inserted in center comes out clean.
Cool in pan for 15 minutes, then turn out on to a pretty platter and cool completely.