Lavender Jelly With Chamomile
Rita~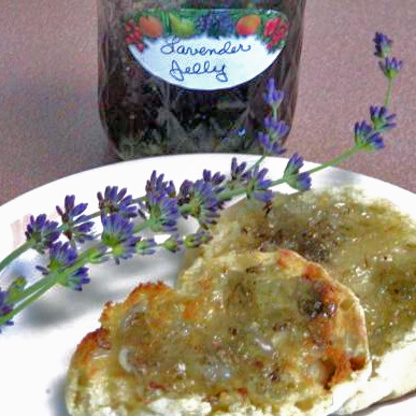 What a beautiful gift! Having trouble sleeping give this a try. Add to a cup of tea, glass of ice tea, lemonade, sauces, salad dressing, glaze a chicken or salmon, top a fruit tart, or spread on a scone for a delicate sweet flavor. Sweeten a vodka martini with a touch of this and garnish with fresh lavender. Take note: 2 minutes - soft gel which would make this great for easy dissolving into ice teas lemonades.... 4 minutes - medium gel for spreading on anything you desire.

Top Review by Saeriu
I made this last night at the request of a friend who purchased lavender just for this recipe. She gave me 1/3c of lavender flowers and after reading some of the reviews with regard to lemon juice, I decided to use all of the lemon juice listed and use 1/3c of the lavender. The flavor is excellent and amazing and it set up perfectly. I've never had anything like this before. I felt very sophisticated and elegant this morning eating this jelly on my English muffin. I think this jelly would be wonderful on lemon grilled chicken, lemon scones, or even raspberry sorbert. I used 4 drops of purple food coloring and the color is like a blush wine color--very pretty. I am so glad to have tried this recipe! Thanks so much for sharing; I am planning on growing my own lavender this summer just for this recipe!
Sterilize jars and keep them hot.
Pour boiling water over lavender and let steep for 15 minutes add tea bag for five. If not adding chamomile steep lavender for full 20 minutes.
Strain tea into saucepan.
Stir in 1 1/2 cups additional water, sugar, lemon juice and coloring.
Heat to a full rolling boil, stirring constantly for 1-2 minutes.
Pour in pectin and return to a boil.
Boil hard for 1 minute stirring constantly.
Remove from heat and skim off foam.
I add back a couple of lavender buds.
Just so you can see them in the jar.
Pour into hot jars or glasses to 1/2 inch of tops.
Wipe rims with a sterile cloth.
Screw on tops.
Place in a water bath for 10 minutes.
Let sit in pot 5 more minutes with flame off.
Remove and place in a draft free spot with out tilting.
Label.