Lavender Herbal Tea Blend
BecR2400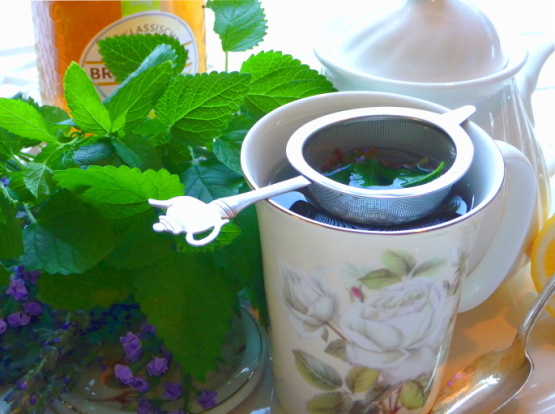 A calming, soothing, and restorative blend using three of my favorite herbs--lavender, mint, and lemon balm! Makes 2 lovely cups of tea or tisane. You can add a tea bag of your choice to make a stronger tea if you wish, and add another cup of water to make 3 cups of tea. Would be wonderful served with Homemade Lavender Honey.

It's mid-March and I don't have any fresh herbs. I used 1/2 tsp dried lavender, 1 tsp dried mint, and 1 tsp dried lemon balm in a two-cup teapot. The combination worked nicely. I suggest using a very fine mesh strainer or filter paper if using dried herbs; using an ordinary tea ball, I got floaters.
Rinse the inside of the teapot with hot water.
Place the loose herbs into the teapot, or into a tea ball. Add boiling water to the pot and steep for 5 minutes; strain.
Serve in warmed china cups, with honey to taste. Makes two cups of tea.
Note: If you would like a stronger tea, add a black tea bag or loose tea of your choice and you can add another cup of water to make 3 cups of tea.